Packaging manufacturer Abbe finds the perfect solution to help Catch.com.au keep up with demand in the busy season.
When e-commerce organisation Catch.com.au set out to purchase new packaging system, productivity and efficiency were key considerations. The company processes over 10,000 orders each day, from its distribution centre that holds over 40,000 products ranging from beauty items to grocery goods. During the Christmas rush, the operation can process as many as 17,000 orders in a single day.
"It was crucial for us to find a reliable machine capable of working fast and reducing waste and damage," said Saar Davidi, Distribution Centre Manager, Catch.com.au.
Packaging manufacturer Abbe recommended the CartonWrap machines from Italian on-demand packaging machine manufacturer CMC Machinery.
"The machine is just fantastic," said Davidi. "It 3D-scans the item or items to be packaged and makes a box to the exact size required, so we're not sending air. With other machines, we can specify variable box height, but CartonWrap creates a box with the ideal length, width and depth."
Eliminating void has enabled Catch.com.au to reduce the number of forklift movements, Australia Post unique loading devices (ULDs) and truck loads taking place each day.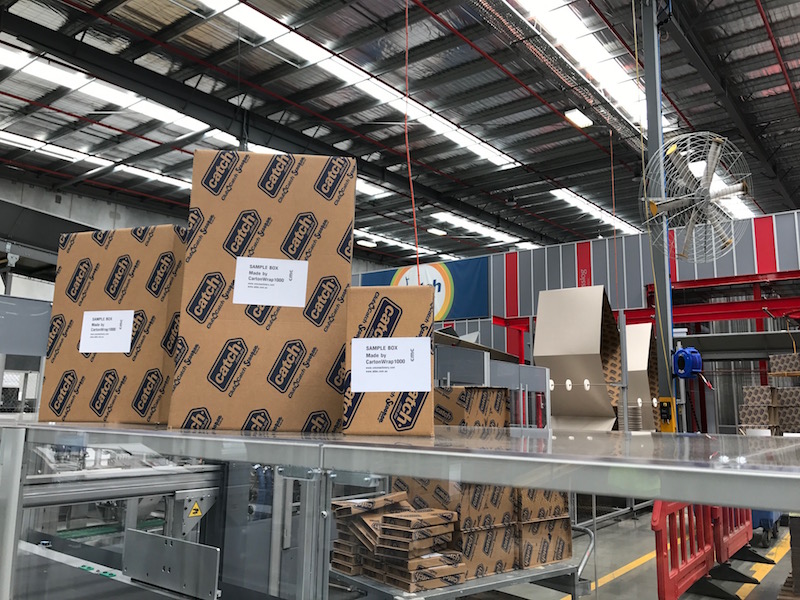 In addition to producing a box optimised for its contents, the machine can also drop the items in, insert marketing materials, seal the box and affix the shipping label.
"In one hour, it can prepare around 800 to 850 orders for sending," said Davidi. "We do have box-size-optimisation machines with a throughput of 500 to 600 packages per hour, but that's for same-sized-footprint boxes with variable height, where we have to manually place and arrange the order items inside the correct footprint box, a task which substantially slows the process."
Davidi added that the CartonWrap has enabled the company to work substantially faster. "Every 3.6 seconds, the machine can induct an order," he said. "Then, the creation process takes between 12 and 20 seconds, but it's continuous – this machine is the fastest I have come across.
"We were looking for a carton optimisation machine for a while until we came across the CMC machine, as far as I know, there isn't another machine out there that can do the same – it simply doesn't exist."
The structural integrity of the boxes produced by the CartonWrap has also impressed, Davidi explained. "The construction of the box is solid – the way CMC designs its boxes is stronger, so we can send orders of up to 15kg," he said.
CartonWrap was recently installed in Catch.com.au's Truganina, Victoria, distribution centre, the culmination of a year-long project between the online retailer, Abbe and CMC Machinery.
"We are so delighted to have facilitated the right solution for Catch with the optimum automated packaging equipment," said Daniel O'Sullivan, Sales Director, Abbe. "We have fostered a great partnership to date and understand their business needs. It's by no means a set and forget, we will continue to provide them with consistent quality and service they require."
"Abbe's packaging engineer came and spent time in our distribution centre before we bought the machine. He saw the volume we deal with and showed how the CartonWrap machine could reduce the volume of what we send by 30 per cent," said Davidi. "Abbe helped me do my homework before buying and were always very communicative."
After purchasing the machine, Davidi visited CMC's factory in Italy to see Catch.com.au's own machine being manufactured.
"I flew there with a suitcase full of problematic products – round, shiny, heavy, odd shaped, and so on," said Davidi. "I wanted to put the machine to the test, to see if it would do what it was supposed to – it did not disappoint. In our factory testing we were averaging around 900 boxes an hour."
Since the machine became operational in the Truganina facility, it's been running volumes through "beautifully," Davidi explained.
"I would certainly recommend the CMC CartonWrap," he said.
Everything is working as it should. Yes, we had some teething problems but, dealing with CMC and Abbe has been a pleasure – they really back up their project."
He shared that he has known CMC for 15 years and therefore has confidence in their ability and craftsmanship, confidence that has then extended to the company's chosen distributor in Australia.
"I know CMC is good, and have found that Abbe is a very hands-on business with family values," he added. "It seems like we made the right partnership with the right companies."
Francesco Ponti, CEO of CMC Machinery, noted that CMC is proud to serve the right-sized packaging needs for Catch.com.au. "Catch is undoubtedly one of Australia's leading e-commerce companies," he said. "We are delighted to be its preferred packaging technology partner to leverage its daily process and improve operating efficiency."
Marco Mozzaorecchi, Manager – APAC at CMC Machinery, added: "Our partnership with Abbe allows both companies to provide Catch with timely support and service, and best-in-class technology for any future development and requirements."
About Abbe
Abbe is a manufacturer and supplier of packaging that includes corrugated cardboard boxes, cartons and similar products. It is located in Coolaroo, in the northern suburbs of Melbourne, Australia.
Abbe has demo centres of Panotec's Automated Box Making equipment located in VIC, NSW & QLD. Contact Abbe for an onsite demonstration.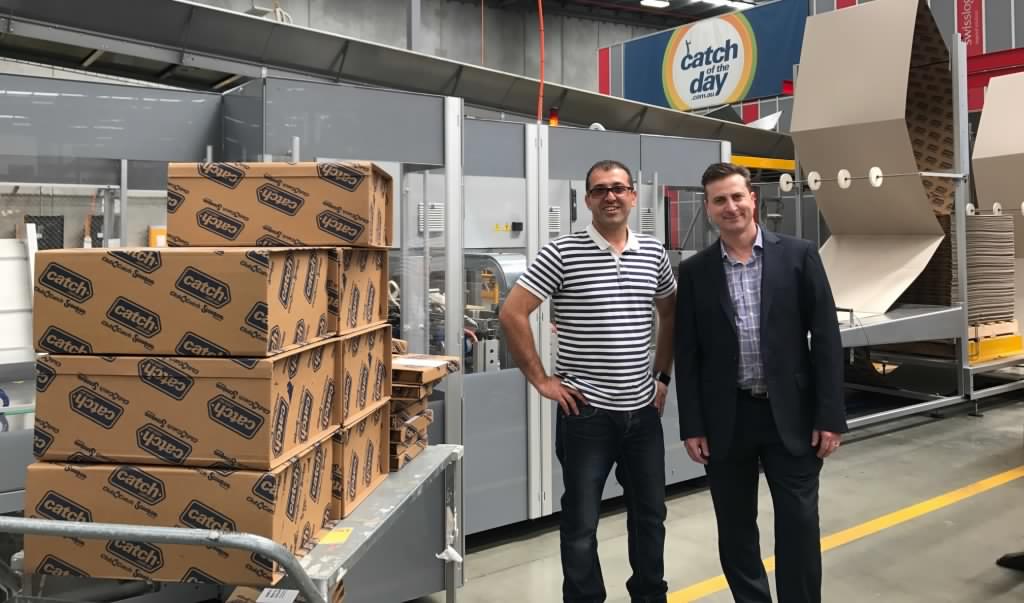 About CMC Machinery
CMC has served the global mailing, graphic arts and packaging markets since 1980 and has built a reputation for developing innovative solutions. This penchant for quickly understanding customer needs and responding with creative design engineering has won CMC much acclaim from its customers around the world. CMC on-demand packaging solutions can deliver strong, personalised and safe boxes and bags that ideal for e-commerce, logistics and POD companies.
About the CMC CartonWrap
Launched in 2013 by CMC Machinery, the multi-award-winning CMC Cartonwrap 1000 is the market-leading, automated, right-size boxing solution for clients. The system scans the physical size of products to be boxed and creates, fills, labels and prints boxes as required, to deliver a fully automated delivery solution. Automated workflow and right sizing remove cardboard wastage, void fill and haulage of fresh air within oversized boxes. The system integrates with clients' warehouse management systems (WMS) to track the item from machine induction to despatch through the supply chain.
CMC CartonWrap is now being installed in the largest e-commerce fulfillment and delivery sites worldwide as well as print on-demand and photobook companies.
Catch.com.au is Australia's favourite place to shop online, where people go to find everything they want and anything they need. It stocks over 50,000 products from all of the biggest brands at the lowest available prices, everything from beauty and fashion items to grocery and tech products.
Catch.com.au will soon hold a tour of its distribution centre, at which retailers will have the opportunity to see their operations (including the CMC CartonWrap) in action.
Source: MHD Supply Chain