Timber Pallets for Local and International Shipping
In addition to providing businesses across Melbourne and Australia with sustainable and cost-effective product packaging solutions, Abbe understands how important it is to keep your packaged stock organised and in order. Workplace environments such as department store loading docks, warehouses and supermarket stock rooms typically require timber pallets for the methodical and organised storage of stock ready to be brought out onto the floor as required. If you're looking for high-quality pallet manufacturers offering a range of storage solutions to accommodate your needs, contact Abbe to see how we can help you.
Our Standard Pallet Range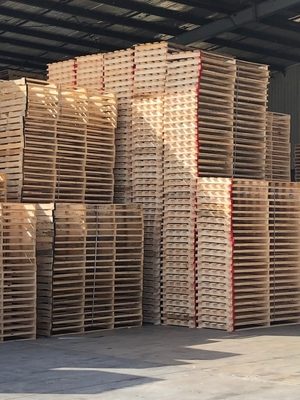 Abbe can provide timber pallets in a range of standard timber pallet size options and types. We can also cater to bulk orders. Choose from the following pallets constructed from treated hardwood:
Heavy Duty Timber Pallet
Recommended Safe Work Load – Max 2000kg
Size – 1165 x 1165mm
Top Boards Thickness – 25mm
Export available
Medium-weight Timber Pallet
Recommended Safe Work Load – Max 1500kg
Size – 1165 x 1165mm
Top Board Thickness – 17mm
Export pallet available
Lightweight Timber Pallet
Recommended Safe Work Load – 500kg
Size – 1165 x 1165mm
Top Board Thickness – 12mm
Export pallet available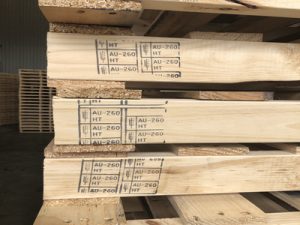 Our Export Pallet Range
All of our export pallets for international shipping are ISPM – 15 Certified as per regulation requirements. They're also:
Heat treated for bug and insect infestations
Individually stamped with export certified symbol to meet international shipping pallet requirements
Available in standard export pallet dimensions including 1100 x 1100mm & 1140 x 1140mm
We can manufacture wooden pallets to any specification required by our customers for export needs.
Turn to the Trusted Pallet Suppliers Across Australia
Since 1954, the name Abbe has long been associated across Melbourne and Australia with quality packaging and storage solutions. We have timber pallets available to buy in a variety of dimensions and sizes to suit your specific requirements, so whether you run a small warehouse or a large stockroom, you can be sure we'll have something to accommodate your requirements.
When you need the most trusted pallet manufacturers in Australia to provide you with highly durable, cost-effective timber pallets, contact the professionals at Abbe.
Call us on (03) 9301 8800 to request a quote or place an order.