As the world's consumers move online, packaging adaptability is more crucial than ever. Common challenges around excess void fill, increasing shipping costs and rising consumer expectations are addressed with Abbe's latest automation packaging solution.
As COVID-19 has accelerated the shift to online shopping, many retailers are faced with the ongoing challenge of ensuring their operations run as efficiently, sustainably and productively as possible.
With the general trend of consumers ordering less items but more frequently, it is a shared pain point for many retailers to get their orders out the warehouse door fast enough.
Retail is a highly competitive environment, and e-commerce capabilities are set to be the key differentiator for retailers to thrive or fail over the next few years.
One area where retailers and logistics operations can reap significant efficiency and productivity gains is in the automation of secondary packaging.
MHD catches up with Russell Speechley, Packaging Automation Manager at Abbe to learn more about a new automated packaging solution that is providing some of Australia's largest online retailers with major efficiency gains.
Automated packaging solutions
Abbe provides packaging solutions for all market segments, a leading manufacturer and supplier of packaging that includes corrugated cardboard boxes, cartons and Fanfold.
The business is also the Australia and New Zealand partner for CMC Machinery, an Italian packaging machinery supplier. Abbe is able to tailor solutions that meet the customer's requirements with outright purchase and rental options where Abbe Supplies the fanfold consumable from its local manufacturing facility. Abbe has already had major success in Australia with the CMC Cartonwrap product, and boasts Catch Group, Toll, Cotton On among others as its customers.
The CMC Cartonwrap has revolutionised packaging for retail consumers. Launched in 2013, the solution is the first 3D packaging machine in the market.
Each box is created unique to the product that it is shipping. Resulting in an elimination of void fill, lower operational costs and a reduction of up to 50 per cent volume of corrugate.
The end packaging is robust and strong, easy to open and can be personalised depending on the brand or purpose. It also has the added benefit of being utilised for returns, an area that retailers are seeing a significant increase in.
"The growth of e-commerce has required the need to move to more automated solutions in packaging to achieve fulfilment operation demands. Speed to market is absolutely critical in this space, and by automating the packaging process retailers can ship goods at a much faster pace," Russell says.
Catch Group, one of Australia's largest online retailers, was an early adopter of the CMC Cartonwrap product and according to Russell, is a great example of proving the case for such a solution.
"Catch fulfils thousands of orders a day and can offer impressive delivery timeframes, the Cartonwrap plays a huge role in them being able to deliver on their customer promise," he says.
Many retailers and logistics providers are seeking opportunities to capitalise on the current shift to online, and the key to retaining these customers is good service. "At the moment it's very much about adapting to this demand and making sure that you can deliver," Russell says.
The CartonWrap can operate at a speed to 1,000 orders an hour. Very few e-commence businesses can feed the machine at these levels and according to Russell, these fulfilment rates would be near impossible with a manual process.
A new era for automation
With the success of CMC's Cartonwrap solution, the company has taken the automation one step further with the launch of a next generation automated packaging offering.
After many years of research and development, the CMC Genesys was launched in May this year and finally provided the solution to the problematic issue of multi and odd shaped orders.
"The new CMC Genesys is a pick to tote solution and is designed to meet both the needs of the demand for sustainable and recyclable packaging and to optimise the production processes and significantly reduce labour and shipping costs," Russell says.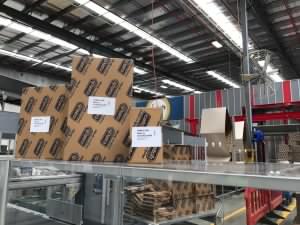 The Genesys goes one step further by utilising it's unique VaryTote® it has developed to eliminate pre-consolidation. It fully automates the packaging process of multi-orders by robotically transporting the order from the tote to a perfectly sized box without the requirement for void fill.
The VaryTote® has adjustable inner guides that are used to optimise the packing volume of the items, and their adjustment will determine the dimensions of each box. Each box is manufactured in line with the machine once the measurement has been 3D scanned.
This allows the VaryTote's contents to be automatically placed into a uniquely sized corrugated carton, then labelled with the shipping details. Ready to be delivered.
Furthermore, Genesys uses a new innovative laser to cut and crease the exact box templates. "There is no waste and all excess trim is folded into the four sides of the box to create a barrier to contain multiple items and remove the need for void fill," Russell says.
Eliminating the need for pre-consolidation offers even further efficiency and productivity gains. There is no need to strap or wrap multi-item orders and the final product enhances the customer experience with an easy tear strip, thumb hole and reusable box for returns.
Sustainability at the forefront
With many retailers wanting to move away from plastic packaging to meet their sustainability aspirations, Abbe's automated packaging solutions offers impressive improvements in both production output that also reduces costs.
With less waste, less cardboard and less filler material, it allows retailers to offer more sustainable packaging options.
There is also the added benefit of reduced delivery fees because of less trucks on the roads. "You're no longer paying to ship air, a major sustainable and economic benefit," Russell says. We are reducing the cubic area that is shipped.
A recent Nielsen study found that 75 per cent of millennials are altering their buying habits depending on sustainability practices.
This can already be seen with major retailers including David Jones and Myer now offering consumers choices around sustainable packaging for online orders, this is predicted to be an important factor in the future of online retail.
"With our automated solutions, we can offer greater packaging and operational efficiencies through labour savings and void reduction eliminating wasteful filler materials as the box is built to size. Overall, this leading automation solution is a winning outcome for manufacturers, the consumer and the environment" Russell concludes.
Source: MHD Supply Chain