23 Jun, 2017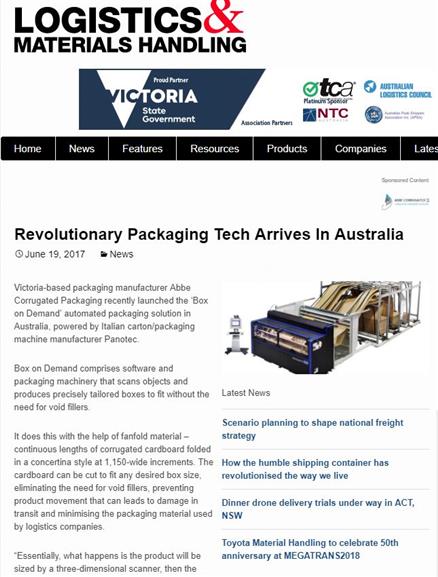 Victoria-based packaging manufacturer Abbe Packaging recently launched the 'Box on Demand' automated packaging solution in Australia, powered by Italian carton/packaging machine manufacturer Panotec.
Box on Demand comprises software and packaging machinery that scans objects and produces precisely tailored boxes to fit without the need for void fillers.
It does this with the help of fanfold material – continuous lengths of corrugated cardboard folded in a concertina style at 1,150-wide increments. The cardboard can be cut to fit any desired box size, eliminating the need for void fillers, preventing product movement that can leads to damage in transit and minimising the packaging material used by logistics companies.
"Essentially, what happens is the product will be sized by a three-dimensional scanner, then the machine will automatically produce a box to the exact size required from the fanfold material," explained Daniel O'Sullivan, Sales Director at Abbe.
"Fanfold utilises the complete space on a pallet so it can be freighted long distance at minimum cost, and can be made to different specifications for varied applications by flute style, width and strength of material," he added.
Quite simply, Box on Demand is a "custom box for custom products" that is well suited to helping tackle the demands put upon the manufacturing industry and third-party logistics providers by the rising popularity of online shopping, according to Dick Heintz, Business Development Manager for Box on Demand Australia.
"The concept is specifically designed to create right-sized packaging for companies that require a large variety of small-run cartons or constantly changing carton dimensions," he said. "Within the bespoke manufacturing segment of the market you will find many customers, such as the furniture and kitchens (including flat packs), automotive spare parts and large-format printing sectors."
"Lean packaging is as important as ever, yet the products to be sent are changing constantly," he added. "There ends up being a lot of dead space left over."
The Box on Demand solution is used by e-Commerce giant Amazon to package odd-sized products – known as the 'uglies' of the industry.
Customised packaging produced by this system has been used by Amazon to package a wide variety of goods, in particular awkward sized and shaped objects – including antennas, furniture, music equipment and sporting goods.
Due to the rise of online shopping, in Australia and around the world, logistics professionals are increasingly finding themselves with the need to physically ship products in need of shipping solutions for products that previously would have been transferred from a bricks-and-mortar store to home by the customer, O'Sullivan shared.
"People no longer see a lack of local availability of bulky products as an impediment," he said. "As a result, Amazon and others are stepping up and supporting innovative packaging solutions, on a large scale."
As Box on Demand's exclusive distributor in Australia, Abbe is keen to show the nation what the system is capable of.
The company holds regular 'i-box' events at its Box on Demand demo centre at Abbe's manufacturing facility at Coolaroo, Victoria. Prospective clients are invited to bring along their products so they can see for themselves how Box on Demand can instantaneously produce a perfectly sized box for their requirements.
"The system is simple, intuitive and effective," O'Sullivan said. "We're eager to see what further efficiency gains Box on Demand will bring to the market and evolving next-generation companies."