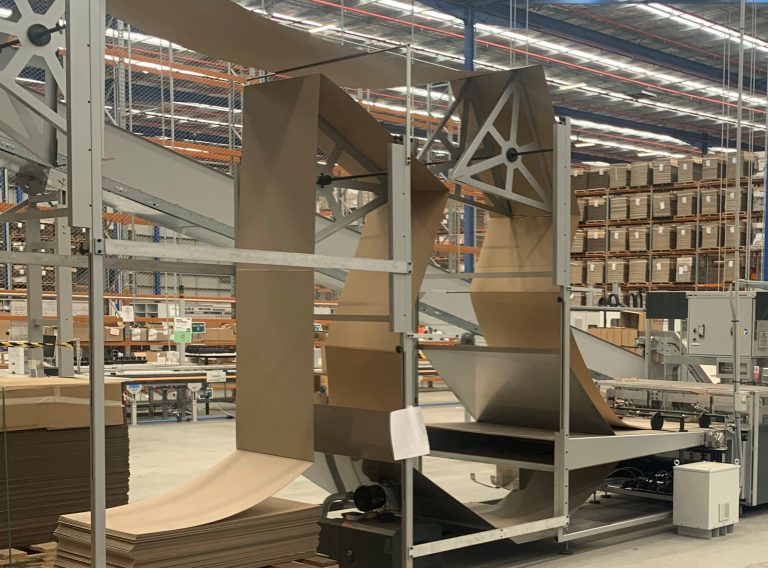 The Toll Group has taken the leap into automated packaging with a 3D packaging solution provided by CMC and Abbe. The outcomes, according to Toll, have exceeded expectations.
As more and more brands look at adopting the direct-to-consumer model for quick delivery of products to customers, particularly in the current climate of increased online shopping during the COVID-19 pandemic, interest in automatic packaging solutions has never been higher.
Russell Speechley, Packaging Automation Manager at Abbe points out that this renewed interest in automated packaging could be a positive outlook for the industry as it allows companies to use their resources more efficiently and sustainably.
Abbe, a key manufacturer of corrugated cardboard and the sole distributor of CMC's automated packaging solutions in Australia, has already had great success in supporting leading e-commerce players in adopting automated packaging technology by CMC – including the CMC CartonWrap model. Abbe can tailor a solution for the smallest to largest ecommerce customer, with rent or buy models complete with service and consumable supply.
Launched in 2013, CMC's CartonWrap was the first 3D packaging machine in the market that creates right sized packaging leading to a reduction in package size, resulting in lower material and shipping costs. The CartonWrap machine draws from continuous corrugated fanfold (manufactured by Abbe) with a dynamic box forming process to cut, crease and glue a box, insert the product, close the box, label it and put it to dispatch all in a fully automated process packaging up to 1,000 packs per hour with only one operator.
Toll Group, one of the successful adopters of the technology, has integrated two CartonWrap 1000 models at its logistics and fulfillment operations in Sydney, where the company caters to large volumes of daily orders for a key technology and communications client.
Daniel Truong, Program Manager at Toll Group says the concept behind CartonWrap complements Toll Group's vision of "Smarter Green" which sets targets to reduce greenhouse gas emissions throughout the company's operations by 20 per cent.
"Getting precisely sized packages using the CartonWrap 1000 enables us to reduce our carbon footprint, while also getting a lot more out of the door. By feeding in more product and less air into the shipping containers, we are getting more bang for our buck," he says.
Truong is also impressed by the support received from Abbe to help integrate the CartonWrap 1000 models into Toll's operations.
"We chose to work with Abbe for its unsurpassed reputation in packaging innovation in general and excellent customer service, and more specifically for CMC packaging machinery solutions, which allows us to provide our customers with efficient and sustainable packaging with an advanced order fulfilment process," says Troung.
The following Q&A involved an interview with Daniel Truong, Program Manager at Toll Group and Russell Speechley, Packaging Automation Manager at Abbe:
Why did the Toll Group decide to implement the CMC automated packaging solution?
Daniel: We were looking for a sustainable packaging solution that would not only bring us more operational efficiencies, but that would also help us achieve more sustainable and carbon-neutral operations, including the use of 100 per cent recyclable materials.
In the traditional model, especially in the technology and communication space, to reduce freight costs, you would have plastic packaging as part of the fulfilment solution. By introducing a variable and sizeable solution like the CartonWrap 1000, we were able to effectively take out all plastic packaging out of the equation for our customer. This technology has allowed us to package and ship smaller fulfilment sizes than ever before.
Even in the traditional box and carton methodologies that use recycled material, there is still a significant cost in either shipping air or utilising some kind of void filler. These inefficiencies increase your carbon footprint, be it in the warehouse space or in the supply chain.
How did the partnership between the Toll Group, CMC and Abbe take shape?
Daniel: A few Toll representatives went to inspect CMC's production plants in Italy and since we had already done our research into where Abbe and CMC could help us achieve our goals, seeing that work in production really cemented our notion to go with CMC's packaging solution. Abbe and CMC were very forthcoming in assisting us and explaining how their product could match our requirement.
Russell: Working with Toll has been very constructive and a great partnership. By doing an investigative analysis of the technology internationally, they have been able to value the equipment and really embrace it. There has been a sequential process to get to that point, but these are all the elements that make up a successful partnership.
CMC has been in the market for technology improvements, enhancements, and developments for many years. CartonWrap released internationally around seven years ago and it has continued to be recognised around the world as being a successful automation implementation. I think the fact that they were seen and recognised by Toll on their visit only enhances why they have gone down that path and the significance of that.
How has implementing the CMC CartonWrap solution improved operational efficiency for Toll?
Daniel:
Labour is probably the biggest cost in any business. Shifting the value-add of the labour force to the quality aspects of fulfilment rather than quantity has really changed how our operation works wherein we are achieving the same overall cost, if not less, but we are achieving a higher quality of delivery.
We have also been able to achieve quite an adaptive range in our order sizes. Traditionally, we had been locked in to procure only a handful of sizes of cartons for our fulfilments and if you had a product that was only in between, you'd be either shipping air or void-filling it. With over 85 to 90 percent of orders now going through the CMCs, we have been able to greatly increase efficiency in our supply chain.
The CartonWrap 1000s are above and beyond what we would have thought they would be and working with automation such as the CartonWrap machines has really taken Toll to the next step, whereby even in our other existing businesses, we are looking at utilising further advancements from CMC and Abbe to scale the business further.
How have your product returns been affected as a result?
Daniel: When returning a product, it is quite frustrating for the customer to go and find packaging or reuse packaging that isn't intended for that purpose. With the way the boxes in CartonWarp 1000 are created, the end user experience is enhanced through the box's 'easy open' and 'resealable strip'. It also encourages reuse of the same packaging for returned items, which further supports our goal of sustainable packaging and recycling.
What ongoing supports does Abbe provide to Toll?
Russell: We do not have a short-term perspective with any of our customers. Like all our customers, our relationship with Toll is a long-term arrangement to maintain the equipment and supply the consumables, such as corrugated cardboard fanfold, and support the technology throughout its life. We have a great partnership with Packaging Technics who provide the servicing for CMC equipment and hold spare parts in both Melbourne and Sydney to support our customers. Abbe is looking forward to years of partnership with Toll by introducing new ecommerce technologies to support Toll to enhance Toll's ecommerce market offering.
Daniel: On top of that, the advantage of having partners such as Abbe and CMC on board for us is that they are open to new changes. Toll being on the front line of fulfilment and supply chain solutions, can provide insights for future developments that otherwise could be missed. Through such a partnership, we can potentially reach the pinnacle of packaging and fulfilment success in the supply chain.
How do you envision the future of logistics and material handling in the coming years?
Daniel: Achieving precision sizing and lower packaging costs will not only benefit customers but it also benefits the whole supply chain. By reducing our footprint both from a carbon offset perspective as well as from a fulfilment perspective, we are able to partner with 4PLs and transport providers more easily and we can get a lot more out the door.
Toll look forward to seeing future offerings CMC and Abbe have for 3PL, especially in automation. They have items that would complement the CMC CartonWrap solution which we are currently evaluating. Their core strength is having delivery and fulfilment solutions that are very much scalable.
Russell: Currently, Automated packaging is a very topical subject, and the market is experiencing exponential growth in online and 3PL fulfilment solutions. We are receiving enquiries frequently from both local and international parties. How it all plays out remains to be seen, but one thing that is for sure is that people are looking for automation solutions at a greater frequency than previously.
I think it's a positive outlook for the industry in terms of adopting more efficient and functional automation packaging solutions. CMC has been quite proactive and continues to be innovative in providing solutions to the marketplace. Their focus is not only on the high-end users, such as Toll, but also the entry level users that are beginning the move into the automation space. So, it's going to be exciting times over the coming years for more efficient automation solutions tailored to suit specific market requirements.
Source: MHD Supply Chain